Wellington Anniversary Day Notice
Please note: We will be closing on Wellington Anniversary Day (Monday, 22nd January).
If you have any enquiries, please contact us at relax@toryurbanretreat.co.nz or on 04 384 4329. We will be back first thing on Tuesday the 23rd.
Best wishes from the Team at Tory Urban Retreat.
Hyperbaric oxygen therapy is non-invasive, relaxing and healing
greatly increases oxygen concentration in all body tissues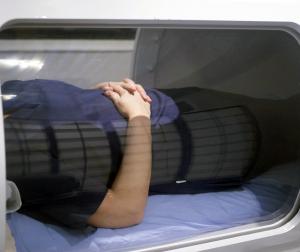 The process involves breathing pure oxygen in a pressurized pod. The
air pressure is increased to 50% higher than normal air pressure at
1.5ATM. Under these conditions, your lungs can gather more oxygen than would be possible breathing pure oxygen at normal air pressure.
Your blood carries this oxygen throughout your body. This helps fight bacteria and stimulate the release of substances called growth factors and stem cells, which promote healing.
Sessions within the pod are relaxing and comfortable.  You can read a book, listen to a podcast or audio book, watch a movie or simply sleep. (Bose headphones are supplied to enhance your therapy experience should you wish to use them with your device). 
Ian & Robin on mHBOT for Stroke
Drug-free brain injury recovery
Hyperbaric Oxygen Therapy & PEMFf Room
 Continue reading about the "Benefits of HBOT" »